Well at last an update. We've pretty much been on the road or in and out of town since the last update. We first headed up to the Michigan "fish house" for an extended 4th of July weekend, then off to California for a working vacation, then some time in Evansville, and finally we've landed back home.

Big news with the girls: Kaitlyn starts Kindergarten in less than 2 weeks, and she's very excited, and I think a little nervous. We spent all day yesterday getting supplies, picking out a new backpack, and getting uniforms. Aunt Dana was nice enough to watch Hailey so Amy and I could have a "special day" getting ready for school. It was a full, tiring day, but everyone had fun.

On the Hailey front, the big news is that we've moved on to the "Big Girl" bed. No more cribs for us! I had a bit of a rough evening getting her to use it the first day, but on the second day and so far, it's been smooth sailing! Wow!

In news about me, I signed up for an indoor soccer league and started playing 2 Sundays ago. While this may be obvious, jumping straight into a league full of guys 5-10 years younger than me after spending the last 15 years sitting on my duff has proved to be somewhat difficult.
What some call a "soccer game" and what I call "3 minutes of running followed by 47 minutes of trying not to throw up" led me to actually try to get in some sort of aerobic shape.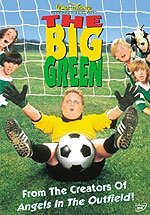 On Monday, I attempted to jog on the treadmill for all of 15 minutes which led me to a half day of feeling like crap. After doing a bit of research, I determined that the problem was over-exerting my sorry, out-of-shape self, and that by monitoring my heart rate I'd be in much better shape. That was worth a try I thought. I wound up buying a Polar Heart Monitor and doing some work on the treadmill over the next 4 days and was able to work up a decent sweat and get some decent exercise.

According to the heart monitor, I still can't do much more than walk fast as even starting to jog slow sends the old ticker beating like a bass drum in a Metallica song. So, better to build up the cardio than suffer a heart attack.

I played again on Sunday and this time as it turns out I played goalie. This also means that I played the whole game. I was pretty winded and tired but I was able to do it and there was no risk of puking on the field this time. At least the goalie gets some rest (although not like in outdoor soccer), and I had a week of somewhat organized cardio training under my belt.
Playing keeper didn't come without some consequences, however. Both of my knees were a bloodied mess, I pulled my right quad, and I jammed 3 fingers. Fortunately, other than being pretty sore yesterday and today, I think I'll pull through. :) I took yesterday as a break day, and today get back on the treadmill.

Of course, I've been as hungry as a ravenous wolf, so weight loss seems to be out of the question at least over the short term. I'll worry about that after I'm convinced I can jog at a slow pace without keeling over. I'll keep you posted.